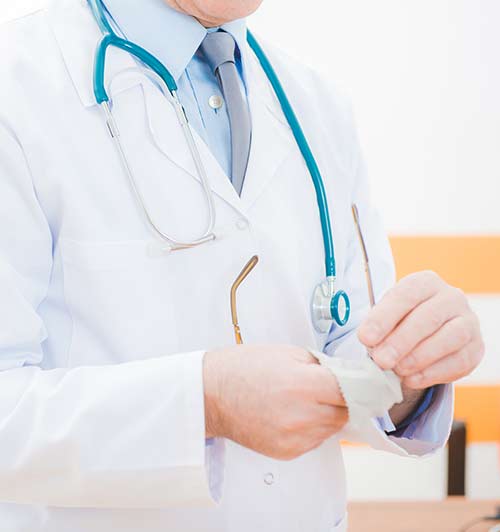 David D. Blasczak: Family Doctor, School District Physician, and Child Predator
Sexual abuse of children is bad enough, but when it's perpetrated by those we should be able to trust, it's even more devastating. Such is the case with David D. Blasczak, a former doctor at a thriving family practice, a long-term physician for an entire school district, and now a convicted criminal.
Last year, Blasczak pled guilty in federal court to three counts of receiving child pornography. In November 2018, U.S. District Judge Charles Siragusa sentenced the 70-year-old Blasczak to nearly 22 years in prison. As he did, he reflected that he would likely die behind bars, calling him "a monster" and "every parent's and every civilized person's worst nightmare."
Just what did Blasczak do to earn that scorn? Plenty.
In his plea agreement, he admitted that he subscribed to a child-porn website and
knowingly received images and videos depicting prepubescent children engaged in sexual conduct with adults and other children … [including some that] depicted prepubescent children subjected to sadistic and masochistic sexual abuse, and the sexual abuse or exploitation of infants and toddlers.
Federal authorities reported that Blasczak obtained 2,557 such images and an additional 78 videos. During their search of his office, law enforcement authorities found "prepubescent child sex dolls" and "novels that [he] wrote concerning the sexual abuse of children."
But Blasczak didn't merely rely on images created by others to develop his fantasies.
Between 1990 and 2000, he used his own daughter as bait, hosting slumber parties with girls between 7 and 12 years old. During those parties, he subjected girls to sexual contact, masturbated over their sleeping bodies, and removed their clothing to photograph their naked chests, buttocks, and legs. Blasczak admitted to as many as 40 different incidents involving 8 to 10 girls. He also stole children's underwear for his own sexual gratification.
It gets worse. Not content with the supply of victims he could obtain through his daughter, Blasczak turned to the children at his medical practice.
As a physician at the Clyde Family Health Center in Clyde, New York, Blasczak "took nude photographs of the genitals of multiple minor female patients," claiming that they were for a fictitious "study." Blasczak even involved the unwitting mothers of those children in his scheme, having them "spread[] the children's vaginas while [he] took photographs." He later used those pictures to fuel his own sexual gratification.
And he didn't stop with the children at his clinic. The Clyde-Savannah Central School District listed Dr. Blasczak as its "school physician" and "district emergency health care provider" from at least 2010 to 2013. The school district has not yet publicly responded to Blasczak's arrest, conviction, or sentencing. In fact, one local reporter repeatedly attempted to contact the school district but never received any response.
Perhaps the most tragic victim—that we know of—was Blasczak's own daughter. Although she committed suicide in 2012, she managed to be a compelling witness at his sentencing through the diaries she left behind, detailing the abuse she suffered at her father's hands and the long-term damage it did to her.
Blasczak, of course, denied that his actions had anything to do with her suicide. In a letter to the court, he argued that he was "a changed person" since "God has already helped me purge much of those demons from me."
Thankfully, the court wasn't fooled. At his plea hearing, the judge had asked Blasczak why he abused children, and his answer was chilling: "Maybe I thought I was just clever enough to get away with something that I knew was illegal."
Federal authorities have already spoken with many of Blasczak's victims, but the true reach of his abuse is vast.
We're here to help. We have successfully litigated many cases like this, and even when abuse happened long ago, we'll help you seek justice.
If you or someone you love was a patient—or otherwise a victim—of Dr. Blasczak, please contact us for a free confidential consultation.